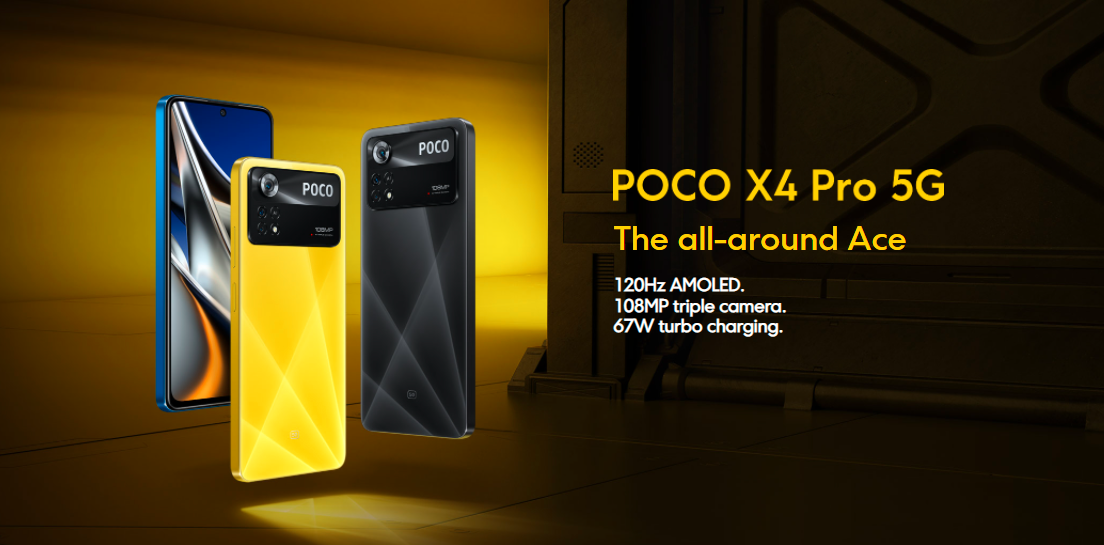 XIAOMI POCO X4 PRO 5G
6.67″ AMOLED display
POCO X Series now has an AMOLED display and supports DCI-P3. The expanded colour range produces rich details, giving a cinematic look and feel. The front camera aperture is only 2.96mm, expanding your field of view.
The display features a high-speed 120Hz refresh rate for a smooth and fluid experience
Whether browsing the web or playing games, the high-speed 120Hz refresh rate allows you to enjoy an unprecedented experience.
Speeding it up with a 360Hz touch sampling rate
The ultra-fast touch sampling rate of 360Hz greatly reduces touch latency and responds to every action with sensitivity and precision, helping you stay one step ahead.
Adaptive brightness to keep your eyes comfortable in even the darkest of nights
Adaptive brightness adjusts your display based on your surrounding ambient light, reducing eye fatigue. Whether you are in bright light, low light or a backlit environment, you will notice subtle changes in brightness to keep your eyes comfortable.
Roam the world with ultra-fast 5G
High-performance Snapdragon® 5G processor boasts superior energy efficiency and delivers a maximum download speed of 2.5Gbps. It is compatible with the major 5G bands used across the world and supports both NSA and SA networking modes. Enjoy 5G from anywhere in the world and enter the new era of high-speed Internet.
Powerful Snapdragon® 695
The industry-leading 6nm production process plus one of the latest Cortex-A78 powerful CPU core offer a flagship user experience. Don't underestimate the power of its CPU — it can handle everything from large games to AI apps with ease!
Keep your device cool with LiquidCool Technology 1.0 Plus
The POCO X4 Pro 5G features a large LiquidCool copper pipe and multiple layers of graphite sheets for rapid heat dissipation and sustained cooling, allowing the device to run at high-performance for longer.
More advanced and resilient battery life with the 67W turbo charging
The 67W turbo charger is capable of tremendous power. With advanced MMT technology, the 5000mAh battery can be charged to 100% in 41 minutes!*
Slim and lightweight with extraordinary capacity
The 8.12mm thin and 205g light body is equipped with a massive 5000mAh battery. Extraordinary power at your fingertips.
A unique aesthetic
The device has a delicate feel with a dynamic shine thanks to its innovative shimmer design and the precision engraving on its surface, making it a unique ray of light bursting through the night sky.
Professional 108MP for a large sensor size
For the first time, POCO has adopted the 108MP flagship camera for photographs that are stunning and rich in detail! The super outsole boasts superior light-sensitivity, dual-native ISO and higher dynamic range for brighter brights and darker darks; as well as 9-in-1 pixel binning technology, with pixels as small as 2.1μm after binning. Discover your hidden potential and capture your most beautiful moments.
Dual speakers for greater listening possibilities
The three-dimensional sound field constructed by the dual speakers generates a more refined and layered sound. Enjoy full immersion in movies, games, whatever you're doing.
Z-axis linear motor for a real shock
Give your fingertips a more animated vibration experience, making every touch feel real.