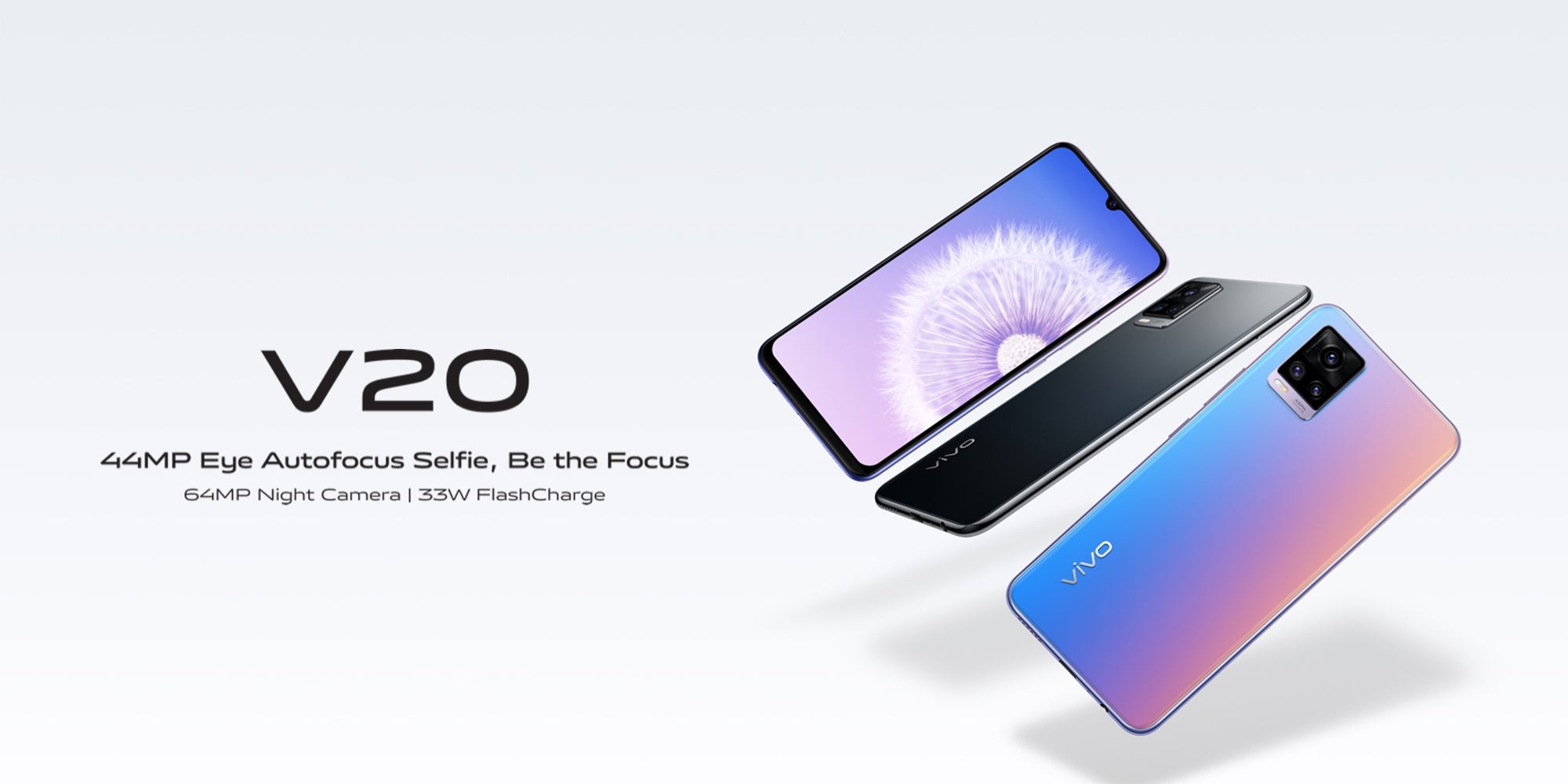 vivo V20 4G
44MP Eye Autofocus The Clarity and Focus You Want
Enjoy beautiful portraits that are rich with color and depth. The Ultra HD main front camera captures detail so intricate, it can withstand even extreme zooming. The main front camera with AF can focus sharply from 15cm, and zoom out to infinity. Whether you're shooting up close, with the help of a selfie stick, or from even greater distances, unrivalled focus and clarity await.
The eyes are the window to the soul. Now, Eye Autofocus can track your eyes no matter where they go, or what emotion they carry. Even when you are on the move, it can follow; shifting smoothly between near and far vantages so you don't need to stare at the camera to capture the greatest moments. Enjoy each minute while the camera does the rest.
Shine at Night with Softlight Super Night Selfie
Vivo's multiple exposures and noise cancellation algorithm can bring on more facial details, helping your beauty defy the darkness. Selfie Softlight Band provides perfect color temperature and more natural skin tones by automatically adjusting to ambient light. It's like a studio light right in your pocket.
4K Selfie Video
Create striking personalized videos with amazing 4K resolution and Eye Autofocus. Stand out with vivid, high definition detail. For still more dazzling effects, try the powerful editing tool kit.
A New Level of Portrait Stability Steadiface Selfie Video
Make videos that reflect your active lifestyle and shake off the accompanying motion blur with Steadiface Selfie Video. It keeps the frame and your face steady and clear.
Double Your Dual-View Video
Double your creative prowess by recording with the front and rear camera at the same time. You'll be surprised at how much fun it is. There are also two models to view your creations: Picture – in – Picture and Dual View.
Never Miss A Moment Slo-Mo Selfie Video
Now, you can control the flow of time with your fingertips. Switch between fast and slow motion, while enjoying the smoothness of 240FPS. Try playing an air guitar solo and see how cool you look in slow motion.
More Styles for Your Style Multi-Style Portrait
Look like a million bucks with Multi-Style Portrait, newly updated to support personalized hues and Face Beauty.
Authentic Colors, AMOLED Display
The 6.44-inch AMOLED FHD+* brings vibrant and authentic colors to life.
The Craft of Simplicity Trendy Slim Design
Delightfully light and surprisingly slim – this new showpiece is design epitome at its very best. 2.5D, 7.38mm* and 171g translate to an unforgettable lightweight hold.
Feel The Smothness Matte Glass
AG Matte Glass adds a subtle luxury to the aesthetic and also provides a comfortable hold. Chemical etching further refines the surface, giving it warmth and making it resistant to scratches. Finally, AF coating protects the phone from fingerprint smears.
Color Symphonies Inspired by Nature Mysterious Colors
It intertwines light with shadow, black and white with unique hues to create color symphonies which celebrate the beauty of nature.
Midnight Jazz
Mysterious and full of energy, this signature color provides composure and confidence to help you stand strong amidst chaos.
Sunset Melody
Enjoy warm tropical hues reminiscent of sunset beaches, with bursts of glowing color that sing a glorious melody together.
Dancing on Clouds Dual Tone Step
The rear cameras are neatly organized in thin layers which stretch like clouds; rising in subtle steps.
A World of Intricate Detail 64MP Extraordinary Rear Photography
The main rear camera – with a staggering 64MP – reveals vibrant details that remain clear even after vigorous zooming. The supporting rear cameras create wide perspectives, super macro, bokeh and black & white film effects.
Super Wide-Angle & Macro Cameras
120°* Wide Field of View, Never Step Back.
Reimagine the Night Super Night Mode
Reinvent your night photography. Super Night Mode adds broader perspectives, while specialized filters conjure hidden shades from the darkness.
Gotcha! Motion Autofocus
Having trouble keeping a running pet or a moving bicycle in focus? Now, just double tap on any person or object, and Motion Autofocus will track them; maintaining sharp, continuous focus throughout.
Smart Zoom
Even when they move closer quickly or drift away, Smart Zoom takes over – panning in and out smoothly – to keep them in the center of the frame.
It's Your Star Moment Art Portrait Video
Turn your video backgrounds black and white while keeping your subject in full color. You can also add bokeh effects to further highlight your center of attention against any backdrop.
Qualcomm®Snapdragon™ 720G 8GB RAM + 128GB ROM*
The 8nm octa-core Qualcomm® Snapdragon™ 720G platform boasts a strong combination of features and delivers impressive performance, with low energy consumption. 8GB of RAM lets you run multiple apps efficiently at the same time, while 128GB of ROM provides ample storage for your large games and videos.
Battery Revival in a Flash 33W FlashCharge
33W FlashCharge* can replenish your battery to 65% before you finish your tea break – in just 30 minutes*. And you can always count on the large capacity 4,000mAh (TYP) battery to keep up with all the wonderful things– from taking pictures and binging on dramas, to listening to music and playing games.
More Updates More Acceleration Multi-Turbo
Multi-Turbo has been updated with an optimized ART++ Turbo, and a host of other exciting features. The accompanying performance leap will take your breath away.
Savor the Thrill Ultra Game Mode
Harness all the potential of your phone's hardware with the newly updated Ultra Game Mode, and go all out in every field of virtual warfare.
Beyond Exploration Funtouch OS 11
Funtouch OS 11 (based on Android 11) features a minimalist aesthetic for smoother user interaction.