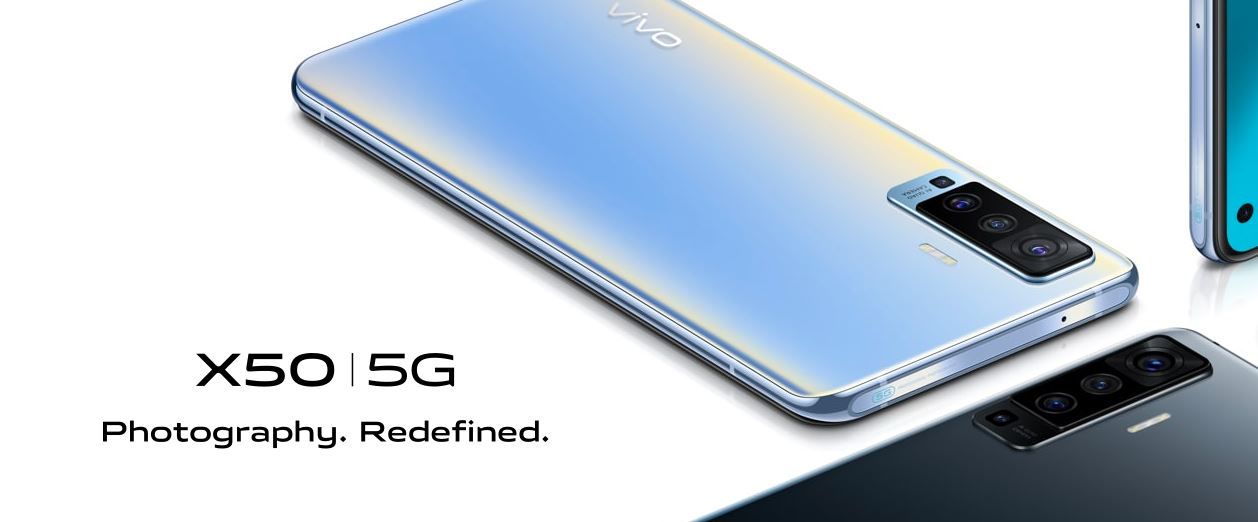 vivo X5O 5G
Sleek Design Lighten Your World
X50 features a 2.5D curved flex screen, with a 3.96mm super tiny camera punch hole. It's lighter, slimmer and more comfortable to hold than you ever expected. Even the bezels are super narrow, thanks to our advanced COP (Chip on Pi) process.
Soothing Colors Transcend the Ordinary
X50 is a masterpiece of visionary technology crafted with sleek textures and dreamy colors. It is designed to bring serenity into busy lives, lifting you above the conventional.
Glaze Black
Glaze Black is a futuristic blend of onyx hues and metallic shades. It shimmers with texture like a mirror – where you can see your true self reflected, with clarity through a chaotic world.
Frost Blue
Inspired by liquid oxygen, Frost Blue shines with fluid hues. Its smooth surface reflects light like opal; in golden glows which exude energy and warmth. It is designed to cheer you up and bring you tranquility.
Superb Night Camera A Million Shades of Night
Make every night shot stunningly sharp and crystal clear. X50 combines OIS with a custom IMX598 sensor – increasing overall light sensitivity by 10%.
Extreme Night Vision
Better still, Extreme Night Vision, accompanied by our innovative new AI denoise algorithm, kicks in automatically when extreme darkness is detected.
Astro Mode
Together, they penetrate the darkest night and capture whatever lies beneath.
Super Stable Motion Photos Capture A World in Motion
X50 can take motion snapshots with almost 0-delay, thanks to the combination of OIS and a custom-made sensor (which reduces exposure time). It can capture someone jumping up with impressive speed and precision.
Motion AF Tracking
Motion AF Tracking lets you choose any object in a frame and keep focus on it, even if it goes out of range and returns again. With Autozoom, you can easily choose a subject and then keep it in the center of the frame. 3D Sound Tracking also follows the sound coming from your chosen subject – no matter where it goes.
Cinematic Master Direct Your Own Film
Film anything you like with X50 as a pro vlog editing crew. The combination of OIS and accurate bokeh algorithm will help you stand out against any background. And with just one tab, you can turn your raw footage into well-crafted piece of art.
20x Digital Zoom Get Closer to the Horizons
Our 2x lens works with an industry-leading zoom algorithm to achieve 20x digital zoom. Extend your view to the furthest distances.
Professional Portrait Be Natural and Beautiful
X50's portrait lens is modeled after a professional 50mm F2.0 prime lens, with a perspective relation close to that of the human eye, leading to natural authentic portraits. vivo's advanced algorithm further separates subjects from backgrounds, making both look stunning.
Super Wide-Angle & Macro Cameras Conquer Perspective and Detail
Capture grander landscapes and include more people in your large group shots. X50's 8MP super wide-angle camera expands your view to a full 120-degrees. Or dive into an untapped world full of tiny wonders, like the tip of a blade of grass or the texture on a ladybug. The 5MP macro camera offers 1.5cm focus with super clarity.
Smooth Display Pure Visual Delight
With a 90Hz refresh rate and a 180Hz sample rate, the display refreshes faster and responds faster. For added smoothness – particularly in games – our VEG (vivo Energy Guardian) technology reduces heating, leading to a cooler experience in the palm of your hand.
5G Speed & Powerful Performance Full Speed Ahead
The Qualcomm Snapdragon 765G processor boasts both high-end flagship performance and low energy consumption – so you can run multiple apps simultaneously, or play resource-heavy games without lag.
5G connectivity means you can enjoy better call quality, faster data downloads and lower latency. The end result is less waiting, and a lot more excitement.
Charging Instant Bounce-Back
X50 reigns supreme thanks to the intense power of a large capacity battery and vivo's 33W FlashCharge 2.0. Regain energy instantly so your game, work and life can carry on nonstop.
Hi-Res Certification Sound of Your Heart
vivo's heritage of peerless audio tuning continues. X50 delivers a musical feast for your ears and soul. Higher sample depth creates vivid detail which resonates in your ears, strikes your heart strings and fully immerses you in a world of music and sound.