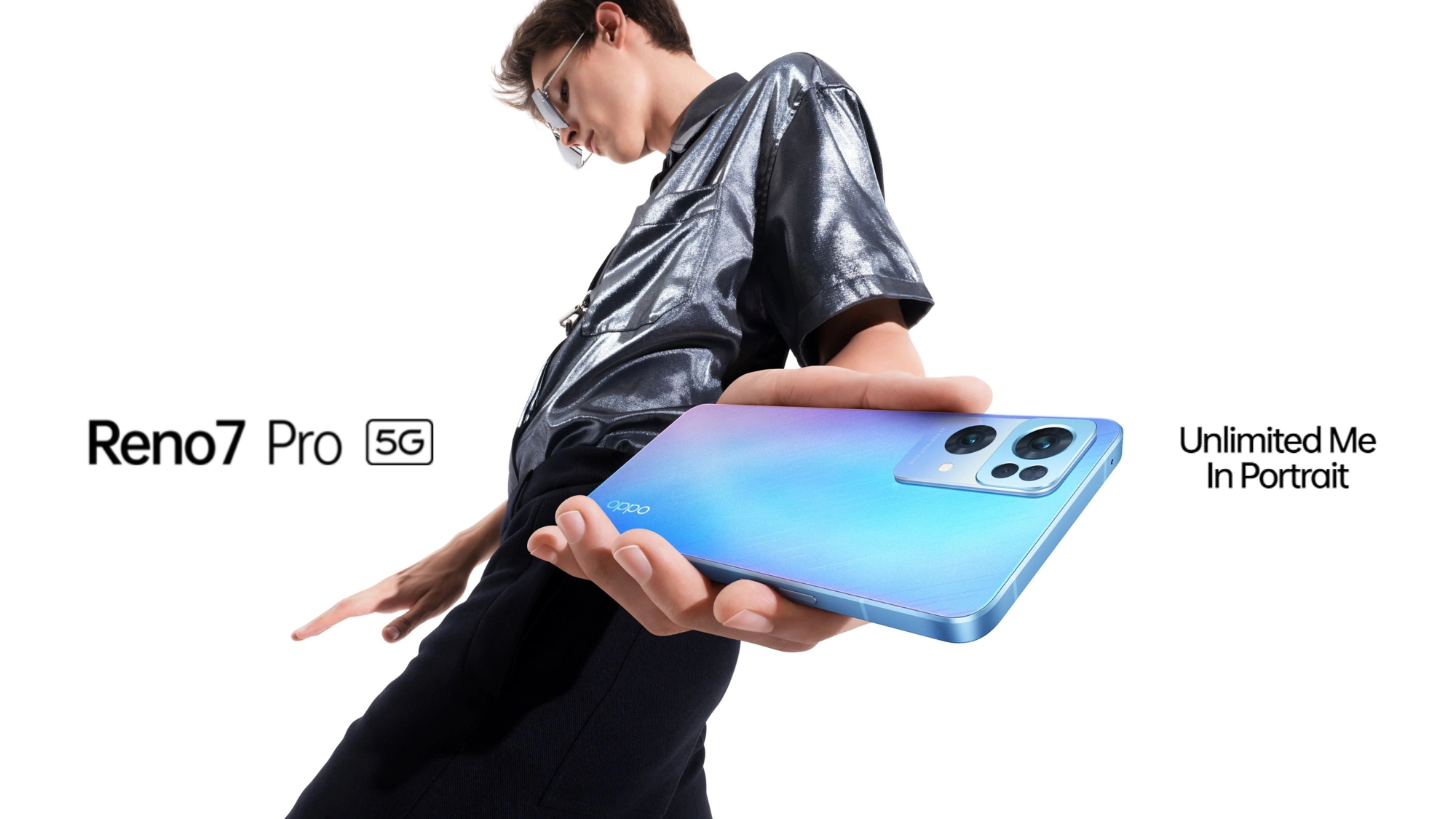 OPPO RENO7 PRO 5G
FLAGSHIP PORTRAIT CAMERA SYSTEM
All-around Flagship, All-encompassing Power
Introducing two camera sensors co-developed with Sony: the world's first IMX709 flagship front camera sensor, and the IMX766 flagship rear camera sensor. With the ability to deliver unprecedented flagship imaging, even in unfavorable lighting—record your life in vibrant detail, flagship-style.
IMX709 FLAGSHIP FRONT CAEMRA SENSOR DEBUT
IMX709 Ultra-Sensing Sensor
Exclusively customized by OPPO and built with Sony hardware, the IMX709 front camera image sensor boasts flagship levels of light-capturing capabilities and imaging power. Whether you're posing in front of the sunset or beneath serene moonlight, every selfie will look dynamically bright and clear.
OPPO'S NEW GENERATION RGBW SENSOR
Combined with OPPO's proprietary Quadra Binning Algorithm, the new generation RGBW sensor IMX709 receives 60% more light and reduces 35% more noise than the standard RGGB sensor.
DOL-HDR UNFAZED BY BACKLIGHT
Behold—the first front camera to be equipped with DOL-HDR—a technology that stops overexposure in light-filled areas while retaining details in darker environments.
SMART WIDE-ANGLE
When it's just you, the IMX709 will use a standard wide-angle to make sure you're the focus in selfie photos. When you're in a group, the IMX709 will identify the number of faces and automatically switch to a wider angle, so no one's left behind.
OPPO x SONY IMX766 FLAGSHIP REAR CAMERA SENSOR
1/1.56", 50 MP, DOL-HDR,All Pixel Omni-Directional PDAF
ALWAYS CLEAR ALWAYS BRIGHT
AI Highlight Video
Empowered by the Flagship Portrait Camera System, our smart AI will identify your surroundings and automatically turn on Ultra Night Video or Live HDR, so you can record vivid videos that are always perfectly clear and bright.
DSLR-STYLE PORTRAITS AT YOUR FINGERTIPS
Portrait Mode
With 25 levels of adjustable blurring, bokeh, and light spot size, Portrait Mode will spotlight your favorite person with perfectly blurred backgrounds and keep their precious smiles in an everlasting DSLR-style portrait photo.
SPOTLIGHT YOUR MASTERPIECE
Bokeh Flare Portrait Video
Get ready to garner the world's attention. Our advanced algorithm will delicately defocus your background and give you the perfect bokeh and flare you need to create your very own visual masterpiece.
SPOTLIGHT THE COLORFUL YOU
AI Color Portrait Video
Spotlight what's important: Our proprietary AI automatically sharpens the natural color of your subjects while leaving the surroundings in black and white.
CAPTURE EVERY SIDE OF THE STORY
Dual-View Video
From their reactions to your emotions, record with your front and rear cameras simultaneously to capture exciting moments from every angle.
CREATE YOUR CENTRE OF ATTENTION
Focus Tracking
Powered by IMX766's All Pixel Omni-Directional PDAF, just choose your subject, and our Focus Tracking will handle the rest—even if they're moving around.
LIVE IN CLARITY SEE IN DETAILS
Ultra-Clear 108MP Images
IMX766 supports super-high-resolution rear camera imaging. Take a photo, zoom in, and endlessly admire the pristine details.
COMETS IN THE SKY STARS IN YOUR HANDS
Laser Direct Imaging
Originally a technology of the semiconductor industry, this is the first phone to use LDI (Laser Direct Imaging) processing. Exquisitely crafted for a delicate touch, it's chiseled with over 1.2 million micro-rasters reminiscent of shooting stars.
A COSMIC BRILLIANCE
Oppo Glow
Combined with LDI technology, the latest generation of OPPO Glow shines like the cosmos, all while boasting a luxuriously exquisite feel.
BREATHE WITH THE STARS
Orbit Breathing Light
First in the industry to use hot-bent optical fiber technology, watch dreamy starlight quietly glow around the camera piece in the form of a 3D Orbit Breathing Light. It'll inform you of incoming calls, new notifications, and more.
GRACEFUL PROTECTIONS
Ceramic and Metal Decoration
For the first time, OPPO is using wear-resistant coated ceramic and metal to accentuate and protect the cameras. The innovative combination adds an elegant touch to the already charming device.
SLIM & LIGHT
Weighs only 180g. The airy 7.45mm thin 2.5D body is made to be held for long periods. Careful—you might just forget to put it down.
MEDIATEK DIMENSITY 1200-MAX
With an advanced 6nm process, 1+3+4 architecture, and an integrated 5G SoC, MediaTek's flagship SoC delivers a 5G-worthy performance. It's also equipped with OPPO-designed optimizations, such as AI Deblur which decreases blurriness when taking photos.
MASSIVE STORAGE INCREDIBLE SPEEDS
More storage, more speed. Multi-task to your heart's content.
LESS TIME WAITING MORE TIME DOING
Experience more and recharge less. 65W SUPERVOOC can charge the massive 4500mAh⁹ battery to 100% in just 31 minutes.
IMMERSIVE HAPTICS IMMERSIVE GAMING
The X-Axis Liner Motor delivers varying levels of vibration feedback. Immerse yourself into a crisp, immersive gaming experience that's like no other.
SMOOTH VISUALS STABILIZED PERFORMANCES
AI Frame Rate Stabilizer will prevent frame-rate loss and lagging so you can enjoy a fluid gaming adventure.
Inclusive Design+ 3D icons
Featuring an all-new inclusive design made for our users around the world, ColorOS 12 comes with new 3D icon graphics that are visually tactile and delightfully crisp.
Omoji
Using industry-leading face-capture technology to detect dynamic facial expressions—create your own live Omoji that reflects the real you.
PC Connect
The photo you need for work is on your phone? Just drag and drop the file over to your PC. It's that easy. You can cast your phone screen to your monitor too. Let Reno7 Pro become your favorite work buddy.
Anti-Peeping for Notifications
Retracts notifications once it detects others are looking at your screen. Privacy protection made smart.
Privacy Certification
OPPO anonymizes your private data and has received international privacy and security certifications to ensure your data is globally secure.