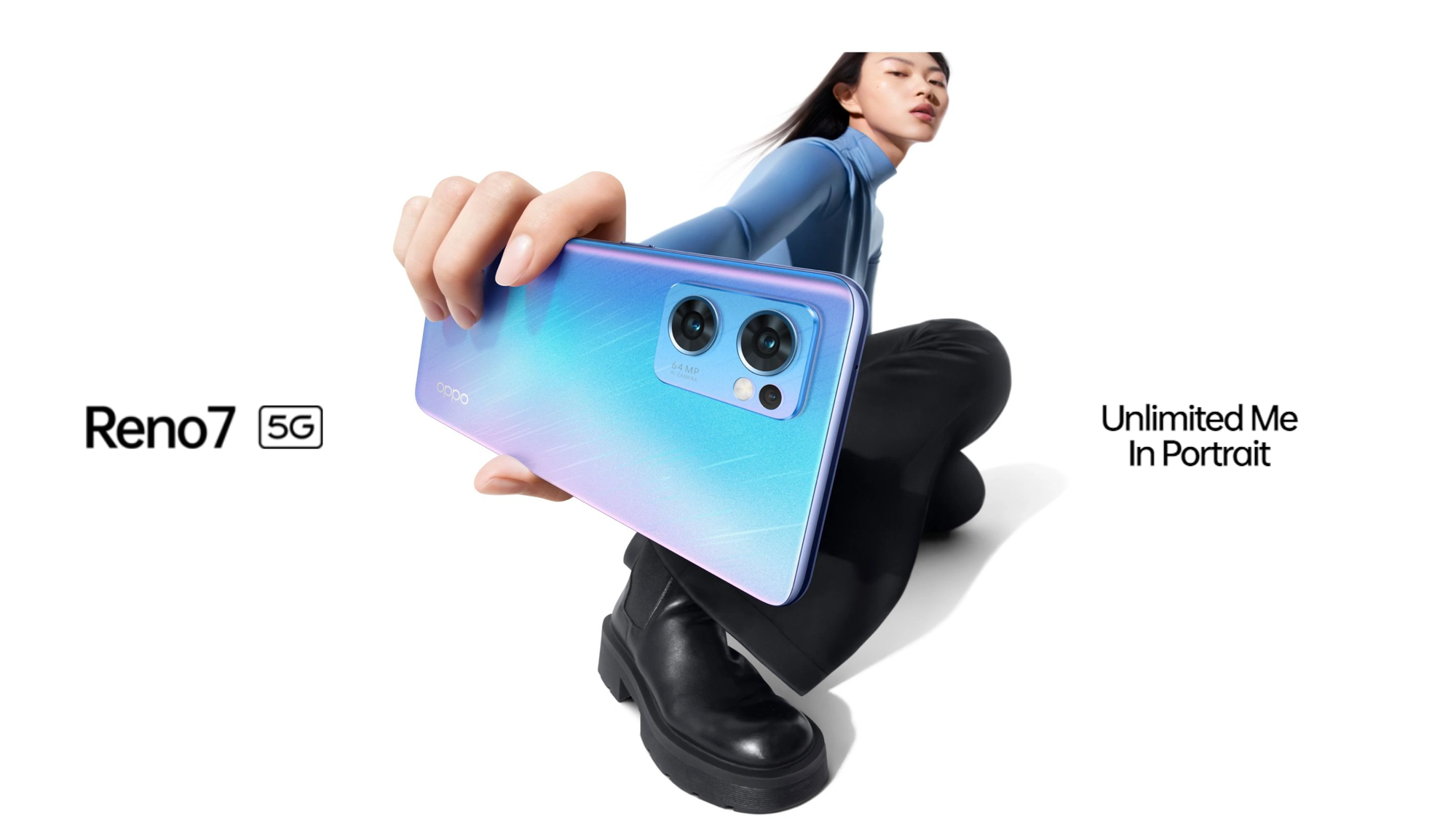 OPPO RENO7 5G
YOU'RE THE PORTRAIT PRO
Portrait Mode
Look up, smile, and pose—you don't need fancy gadgets for DSLR-like portraits with a delicately blurred background. Built with 25 levels of adjustable aperture, custom-create your perfect, pro-level portrait on the go.
YOUR PRO PORTRAITS IN MOTION
Bokeh Flare Portrait Video
Get ready to direct the DSLR-esque motion picture of your dreams with the Reno7 5G. Combined with OPPO's special Smart Skin Tone Protection AI, front or back, day or night, your video subject will always stand out in front of the beautifully blurred backdrop.
SPOTLIGHTING YOUR MOMENTS
AI Highlight Video
Don't let gloomy, dim restaurant lighting damper your date night, or let harsh sunlight ruin your beach day. The AI will recognize scenes and enable Ultra Night or Live HDR to ensure all your moments, big or small, are in bright, vivid detail.
SPOTLIGHTING IN COLOR
AI Color Portrait Video
Are you ready to play with some colors and garner the world's attention? Just one tap and you'll instantly create an art house masterpiece.
CAPTURE BOTH SIDES OF THE FUN
Dual-View Video
Who says the camera-person can't be in the frame? Tap the split-screen layout that catches your eye and record from both sides of the camera simultaneously.
ACCENTUATE THE REAL YOU
Portrait Retouching
From your age to your ethnicity, the Portrait Retouching AI has 193 control points that'll identify your features so you can spotlight your natural charms. With 8 adjustable retouching options for the front camera, you'll always be ready for the big screen.
HIGH-RES IMAGING
The Clarity to see
Lifelike details at your fingertips. Made possible with Reno7 5G's ultra-high-resolution 64MP rear camera trio and the Sony-powered 32MP front camera.
ULTRA STEADY VIDEO
Steady does it
Whether you're recording your morning hikes with the selfie camera or capturing sunsets with the rear camera, your videos can be steady like a pro's.
FOCUS TRACKING
Always in Focus
Just tap on your subject and the AI will handle the rest. We're serious—there's no need to manually track your moving subjects on camera. Just sit back, relax, and enjoy the fun.
INSTANT IMAGES INSTANTLY CLEAR
Flash Snapshot
Say goodbye to blurry shots! With ultra-short outdoor exposures of up to 1/20ms and the exclusive Image Clear Engine, get crystal-clear photos even in the most action-packed situations.
LIVE IN CLARITY SEE IN DETAILS
Ultra-Clear 108MP Image
Stun your circles with unbelievable high-resolution 108MP imaging—made possible with the proprietary super-resolution algorithm. Zoom in and discover the endless details 108MP can offer.
A GALACTIC RAY
Laser Direct Imaging 
Featuring the industry's first-ever LDI-processed design, lay your eyes on the field os shimmiring micron-level patterns that's inspired by breathtaking meteor showers.
SHINING, SHIMMERING, SPLENDID
OPPO Glow
With millions of pyramid-shaped crystal structures neatly organized using LDI, a delicate yet refined texture is created, all while remaining delightfully fingerprint-proof.
SLIM & LIGHT
Only 173g light and 7.81mm thin, the curved 3D back design is made to fit a single palm.
MADE FOR VIEWING MADE WITH CARE
A big, fluid, and vivid display brought to you by the super-fast 90Hz refresh rate. Immerse yourself into the digital world without worrying about straining your eyes with the Eye-Care certified display.
POWER UP IN MINUTES
65W Supervooc
Don't wait to get in the game. You only need a 5-minute charge to play your favorite game and 31 minutes to fully power up the big 4500mAh battery.
MORE POWER TO GAME LONGER
4500mAh Battery
Don't let battery life limit your fun. All-day Smart Power Saving combines Super Power Saving Mode and Super Nighttime Standby to keep your Reno7 5G going nonstop.
GET YOUR 5G GAME ON
MediaTek Dimensity 900 5G
The Octa-core 5G processor with an industry-leading 6nm process welcomes you into the 5G world. Made available with the ultra-fast Wi-Fi 6, the world's latest wireless standard, say farewell to loading—it's a thing of the past.
TAKE GAMING TO THE NEXT LEVEL
HyperBoost
Don't settle for lower frame rates. HyperBoost's AI Frame Rate Stabilizer will prevent frame-rate loss and lagging, while Quick Startup will take you right back to where you left off. Let the fun load instantly.
PLAY IT COOL
Multi-Cooling System
Combing multi-layer graphite sheets, a liquid cooling system, and Borazon, an aerospace-grade insulation, we'll keep even your most intense gaming session from overheating your phone, so play for as long as you want without worries.
BUILT FOR SMOOTHNESS CERTIFIED TO LAST
TÜV SÜD 36-Month Fluency Rating A
With Reno7 5G's proprietary AI System Booster, you can enjoy silky-smooth fun 24/7. This über-smooth performance has also been officially certified—it's actually the first in the industry to achieve the top A-rating.
RAMP UP THE STORAGE
RAM Expansion
Want to keep more apps in the background, but low on RAM? Just convert your free storage into RAM with RAM Expansion, up to an impressive 5GB. Made available with 8GB RAM—store more games, more videos, and never get bored.
Inclusive Design
ColorOS 12's brand-new, globally inclusive, user-oriented design comes with new 3D icons, completely revamped layouts, and fully localized UIs.
Omoji
Just make a face and OPPO's leading face-capture technology will channel your unique expression onto an Omoji, making it uniquely yours. With over 14 billion feature combinations possible, show the world how you really feel without using words.
PC Connect
Break the boundaries with PC and enter the world of seamless productivity. Mirror your phone's screen to your PC. Drag and drop files across devices. Effortless mobile to computer syncing, made possible on the Reno7 5G.
Air Gestures
With just a wave of your hands, you can answer or mute a call or scroll up and down on an app.
Adaptive Sleep
Read or scroll web pages with zero interruptions. As long as you're looking at your phone, it won't automatically go to sleep.
Anti-Peeping for Notifications
Retracts notifications once it detects others are looking at your screen. Privacy protection made smart.
Privacy Certification
OPPO anonymizes your private data and has received international privacy and security certifications to ensure your data is globally secure.