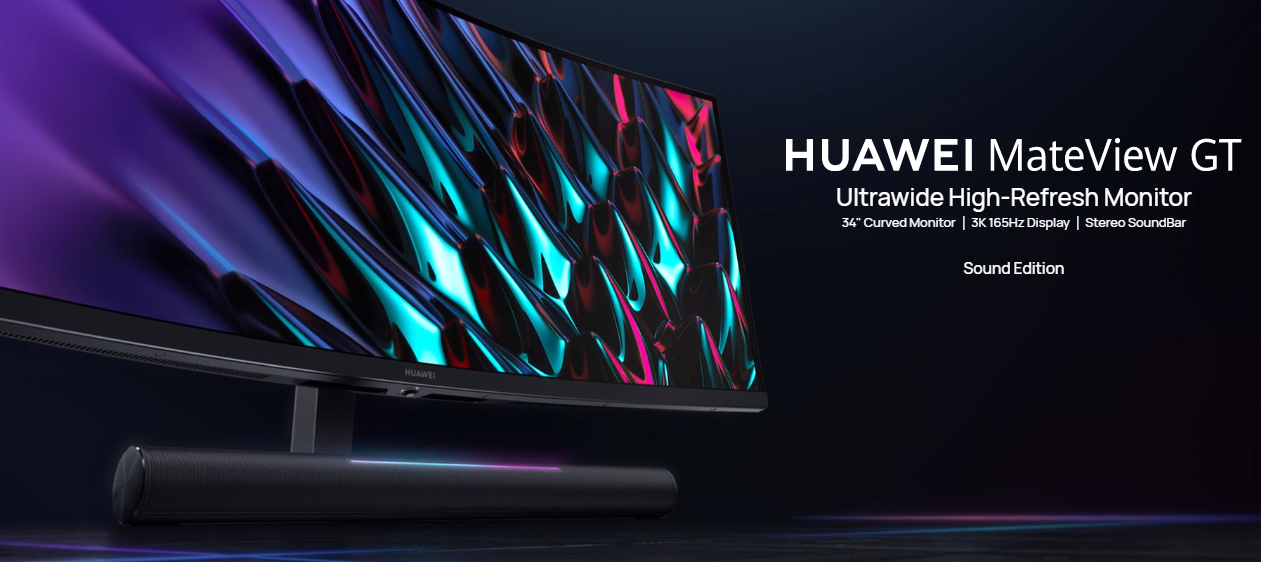 HUAWEI MATEVIEW GT
Ultra-curved 21:9 Screen
Feel the Force of Full Immersion
The 34-inch ultra-wide 21:9 screen truly fills your vision, as the 1500R super-curved design brings you into a new world of immersive viewing.
High Refresh-Rate Display
Refreshingly Fast
The WQHD 3440 x 1440 display on HUAWEI MateView GT has more horizontal pixels than standard 1440p, to really bring images to life, right before your eyes. And visuals flow seamlessly and smoothly with the ultra-low latency, 165 Hz refresh rate.
4000:1 Dynamic Range
Take in Every Detail, Unlock Every Element
Experience HD-ready brightness of up to 350 nits and get a deeper view into even the darkest images thanks to the HDR10 technology and 4000:1 contrast ratio. More to see, more to explore.
Over 1 Billion Colors
A Superior Color Palette, More Stunning Visuals
Bask in the beauty of 1.07 billion colors on the big screen, for more precise, true-to-life gradients. The 90% DCI-P3 wide color gamut provides a cinema-like experience, and the Delta E<2 accuracy lets every colour shine forth as they're meant to be seen.
SoundBar Dual Speaker
Raises the Bar for Sound Quality
The innovatively designed dual 5 W speaker SoundBar on HUAWEI MateView GT is built into the base and utilizes the smart audio algorithm, to provide high-quality stereo sound that soars as you do. Achieve awesome audio without the need for external speakers.
Quick Volume Adjust
Slide into Full Control
Want to change the volume fast? Just swipe your finger along the SoundBar to quickly and intuitively control the volume. And as you make it louder, you'll see more of the built-in, multi-color FX display light up — for that extra touch of magic.
360° Dual Mic System
Always be Received Loud and Clear
With the smart dual mic system, built into HUAWEI MateView GT, your voice will be picked up from up to 4 meters away, a full 360° around. The smart AI system then enhances the clarity, so you'll not only be heard, but even more importantly, understood.
Game Assistance
Extra Weapons for Your Arsenal
Don't be in the dark about where the enemy is. The 'Dark Field Control' feature lets you adjust the display brightness in low-light scenes, so you can spot your opponent before they spot you. And when you do spot them, take aim much more easily with the 'Crosshairs' on-screen digital target sights.
Switch Display Mode
Change the Parameters of Your Play
Quickly alter the display parameters to fit different types of game using the easily accessible physical 5-way joystick. Choose from 8 different modes, specifically designed for RTS games, MOBA games, first-person shooters, and more.
Low Blue Light, Flicker Free Display
Keep Your Eyes on the Prize
Stay immersed in your viewing experience for longer with the Low Blue Light and Flicker Free display, as certified by TÜV Rheinland. Give your eyes something beautiful to look at, while always keeping them protected.
HDMI and USB-C Ports
Rich Port Support
The easy-to-remove magnetic back cover opens to reveal the multi-function USB Type-C port, for rapid data transfers, 8K video, and PD charging. Plus, access HDMI, DisplayPort and a 3.5 mm headphone-microphone combo port. Get hooked up to what you want fast.
Silver Frost Ring
Has a Ring to It
The cool 'silver frost ring' design on the back provides an aesthetic touch to let HUAWEI MateView GT really stand out from the crowd. Adjust elevation by up to 110 mm and pitch angle by 5 degrees forwards and 20 degrees back. Plus, easily remove the bracket to make it fully wall-mountable.