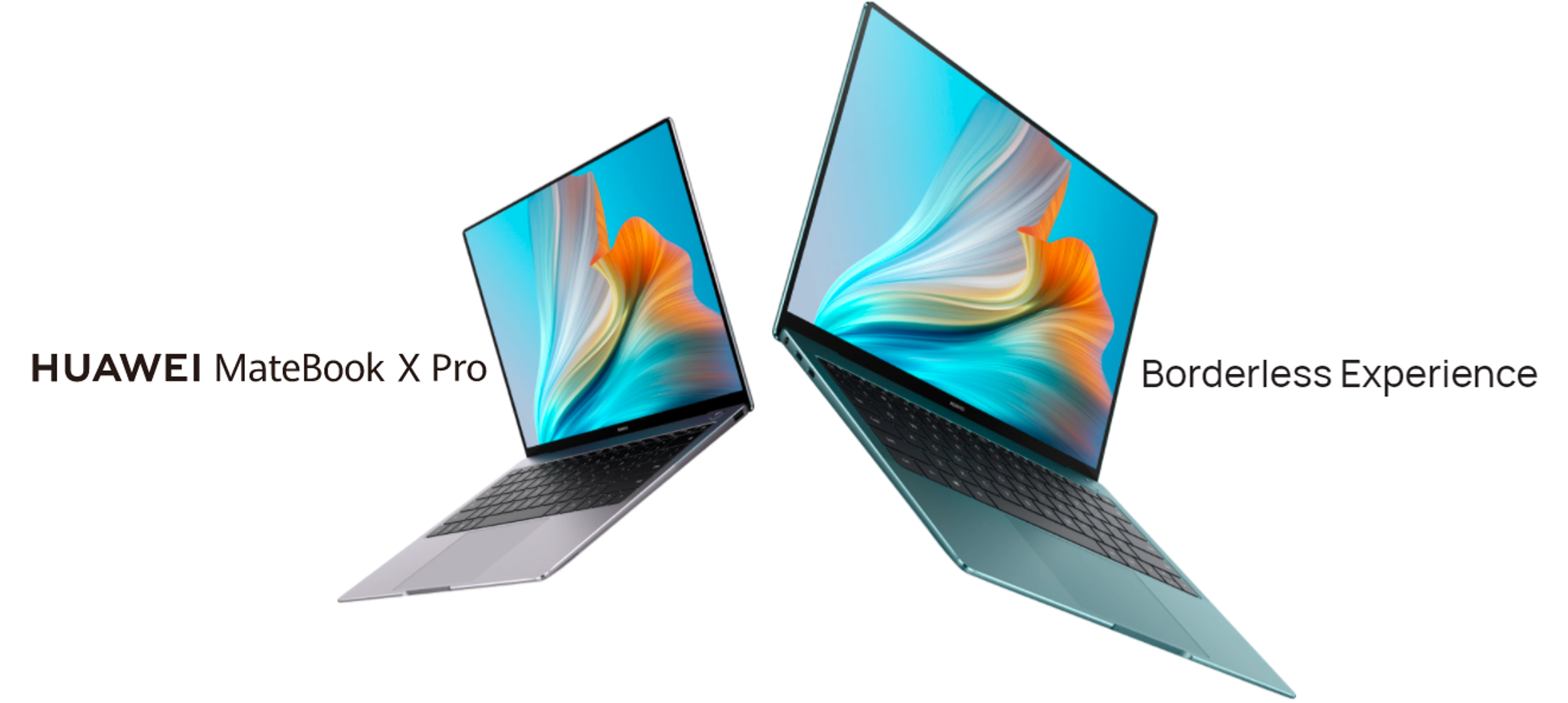 HUAWEI MATEBOOK X PRO 2021
3K FullView Display | Breathe life into FullView.
A FullView experience, as borderless as your vision. The 13.9-inch body offers a remarkable 91% screen-to-body ratio, letting you see the big picture — now even wider and better, thanks to fewer bezels. The 3000 x 2000 resolution and 100% sRGB wide colour gamut give you an intensity of clarity and colour. Immerse yourself in the ocean of nearly 6 million pixels, and enjoy every frame of your favourite movies and games in vivid, sharp detail. The 3:2 aspect ratio creates a panoramic viewing effect, so you have more space to achieve what you want. Just sit back and enjoy the display.
Touch Screen | Magic at a touch.
And we have lift off — from pad to full screen! Enjoy touch-sensitive control of the slim, LTPS screen and effortlessly scroll, zoom and select, just the way you want it. Instead of using screenshot tools, you can swipe down the screen with three fingers and capture the screen in any size or shape — a fun trick that lets you be more free at work and at play.
Two Finishes | Elegance comes naturally.
The new HUAWEI MateBook X Pro comes in 2 charismatic, natural colours — Emerald Green and Space Grey. Versatile beauty at its finest.
Craftsmanship | Light metal chic.
With the 1.33 kg light and 14.6 mm thin metallic body, plus diamond-cut, sandblasted finish, you get an ultra-portable, professional level notebook all-in-one. Your ideal companion at home, in the office, and on the road.
Huawei Share | Make your PC and phone one device.
With Huawei share, you can enjoy seamless convenience more than ever. Just simply tap your phone to the touchpad, your phone will pop up on the display. The upgraded Multi-screen Collaboration feature supports simultaneous display of multiple phone apps on your notebook. Whether it's chatting with friends on social media or picking up video calls, you can have it all on a single screen. Share files from your phone to your notebook to edit them, then transfer them back, all with a few taps. Navigating between your devices has never been easier.
HUAWEI Free Touch | It feels right at your fingertips.
The upgraded HUAWEI Free Touch touchpad offers smoother feedback with every press and movement of your fingers. Thanks to the large control space, you can enjoy a more intuitive experience with multi-finger gestures. No matter where you touch, it will always sense the pressure and give you the response you want.
Performance | Power hits new levels.
Packed with 11th Gen Intel® Core™ i7 processor, up to 16 GB 3733MHz LPDDR4x memory and up to 1 TB SSD storage, the brand new powerhouse improves its CPU performance by 22% compared with the last generation. Accelerated image and video processing, multitasking and connection speeds of Wi-Fi 6 and Bluetooth 5.1 are all combined for your productivity and creativity. It's truly the most powerful MateBook ever seen.
Dual-fan Cooling System | Play it even cooler.
The new dual Shark Fin fan design works together with the ultra slim VC heat dissipation modules to enhance air flow and cool the computer rapidly for a better working experience. With the upgraded cooling system, your HUAWEI MateBook X Pro is able to work smoother, process faster and operate more quietly, unleashing greater possibilities than any previous generation.
Battery and SuperCharge | Empowered all day long.
Professional performance needs more power. Equipped with a monster 56 Wh battery to provide long-lasting power, the HUAWEI MateBook X Pro is able to provide up to 11 hours of regular work on a single charge. Charge your HUAWEI MateBook X Pro for 4 hours of work in only 30 minutes — just the time for you to enjoy a cup of coffee. Tired of bringing all those chargers with you on a trip? The ultra-light 65 W pocket charger can quickly charge Huawei notebooks, tablets and mobile phones that support USB-C ports.
Immersive Audio Experience | Better sound in and out.
The powerful quad speakers and split frequency set-up offer you woofers with deep, resonant bass and tweeters with clear treble — a more immersive audio experience letting you experience the finer details in music or movie audio. Thanks to the 2 new front microphones, the HUAWEI MateBook X Pro picks up your voice from up to 5 metres away, giving you greater freedom to move around when making calls. The advanced audio algorithm can also effectively filter environmental noise to ensure you sound better.
Security | Safeguards in the detail.
With HUAWEI MateBook X Pro, your fingertip is the key — simply place it on the power button to unlock the screen in a flash. The camera is innovatively hidden in the keyboard and pops up only when you want it to. Your privacy is primary.