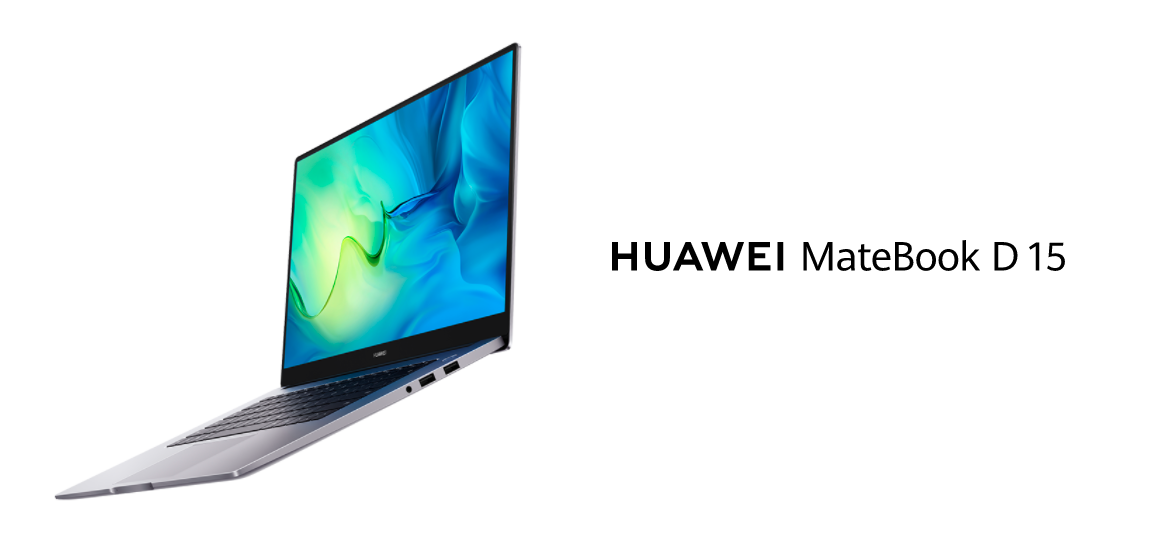 HUAWEI MATEBOOK D 15 2021
Go to the Edge of What's Possible
Experience a new kind of vision with HUAWEI MateBook D 15. The IPS 15.6″ HUAWEI FullView Display and 16:9 aspect ratio stretch the limits of what you can see, while the Full-HD 1920 x 1080 resolution lets every image burst with detail and clarity. Open up and see more.
Love Your Eyes
Why strain when you can take it easy? HUAWEI MateBook D 15 is designed to relieve eye strain and vision fatigue, with Flicker-Free and Reduced Blue Light certifications from TÜV Rheinland. Keep your eyes fresh and sharp at every moment.
Beat Back the Bezel
No one wants to look at bezel. That's why the 3-sided bezel around HUAWEI MateBook D 15 is slimmed down to a super-narrow 5.3 mm. More screen, more of what you love to see.
Light but Hardly Slight
HUAWEI MateBook D 15 is a master of portability, with its slim, contoured 16.9 mm thin design, and weight of just 1.56 kg. But don't let its lightness fool you — the stylish, smooth-to-the-touch body is strong and sturdy, for a versatile machine you can take just about anywhere.
Let's Get Things Moving!
When it comes to processing, impatience is a good thing. The 11th Gen Intel® Core™ processor makes everything that much faster, so you spend less time waiting and more time doing. HD movies? Still a piece of cake! The Intel® Iris® Xe paints your favourite content in glowing colours, sending graphics performance through the roof.
Make the Switch from 5 to 6
Join the Wi-Fi 6 revolution to enjoy network speeds of up to 2.7 times faster than the previous generation. That means you get to upload and download files up to an incredible 2.4 Gbps! Move into a faster internet future now.
Multi-screen Collaboration
Huawei Share means opening up new connections between your devices. Sync up your phone screen to the MateBook screen with a simple tap on the touchpad.
Multi-window Multitasking
Display and use up to 3 different phone apps on the MateBook screen simultaneously. Multitasking just got real.
Drag, Drop, Edit
Have files on your phone you want to transfer to your MateBook? With Huawei Share, all you need to do is drag and drop them from the phone screen to the MateBook screen. What's more, any changes you make to the files will automatically be saved to your phone.
Phone Calls on your laptop
Any calls you receive on your phone, you can take on MateBook via Huawei Share. Great for working during business calls, and seeing your friends and family better during video calls.
Take Charge of Your Power
Keep your power in your pocket. The 65 W USB-C charger for HUAWEI MateBook D 15 is light and compact enough to slip easily into your pocket, while powerful enough to provide 2 hours' MateBook use from a quick 15-min charge. The cable provided is USB-C compatible on both ends, allowing convenient fast data transfers on-the-fly, and supporting SuperCharge for your Huawei smartphone.
Enliven Your Ears
HUAWEI MateBook D 15 rewrites the rule book when it comes to sound. Its custom audio algorithms provide truly pristine surround sound that washes over you like a cool, breathtaking wave. Forget laptop sound, this is MateBook sound.
One-Touch, All-Access
Your finger is your passport to fully access HUAWEI MateBook D 15. Press the Fingerprint Power Button at the top right of the keyboard and it will read your fingerprint, to power on and log you in instantly. The faster and more secure way to start up.
Ports Aplenty
Don't be frustrated by not finding the port you need. HUAWEI MateBook D 15 has all you need and more.
Up to 512GB + 16GB
The formidable max. 512GB PCle SSD reads and writes at a blistering pace, while providing more than enough space for all your images, videos, and documents. The up-to 16 GB memory helps boost transmission efficiency to keep everything tight while hopping from task to task.
Secure Pop-up Webcam
Activates only when your press it to pop up. Putting your privacy at your fingertips.
Go Turbo with Fn+P
The Fn+P hotkey toggles between Performance Mode, for powering intensive gameplay or professional-level video editing, and Standard Mode, which carefully manages power consumption and reduces fan noise.
Tried, Tested, and Proven
We subject HUAWEI MateBook D 15 to rigorous quality testing, so you can be sure that it's equipped to handle whatever life throws at it.