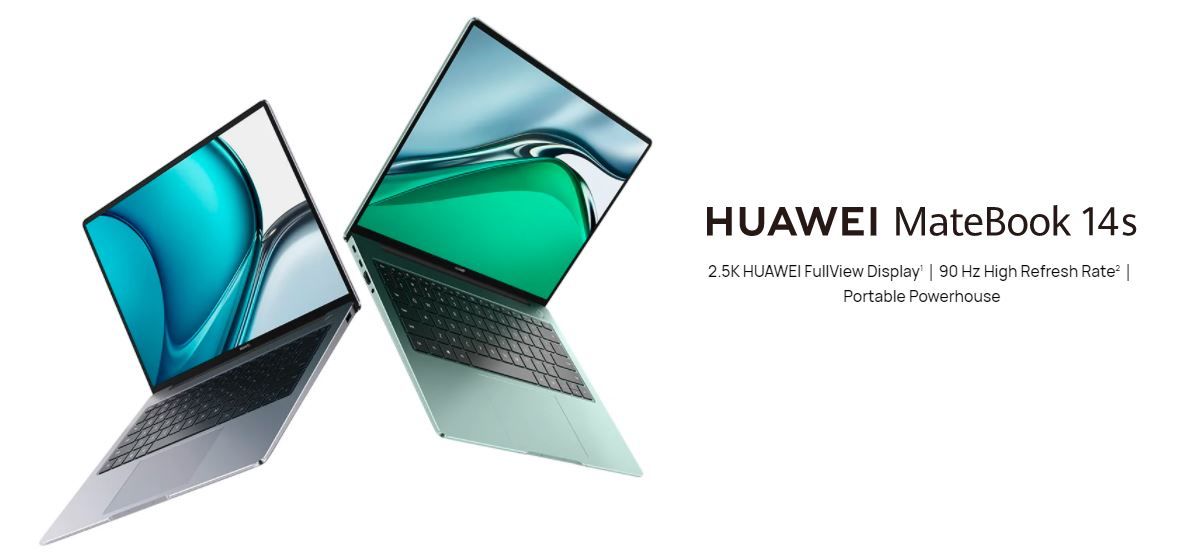 HUAWEI MATEBOOK 14s
MateBook just got a new upgrade. Seamlessly connect with even more devices, inspire your creativity to its fullest, and unlock new levels of productivity.
Distinctively Light
Beauty unveiled in two distinctive colors – Space Gray and MateBook's latest color, Spruce Green. Get the finish you want and take it with you anywhere, thanks to the lightweight 1.43 kg, sturdy aluminum-alloy body.
Revel in the Narrow Bezel
Take in every image, delight in every sight on the 2.5K HUAWEI FullView Display. And with a 90% screen-to-body ratio, via the 4 super-narrow bezel sides, plus deeper 3:2 aspect ratio, you can discover more of what you want to see.
At Your Own Rate
The 90 Hz refresh rate allows things to flow much more smoothly. Easily switch between 90 Hz, for improved performance, and 60 Hz, for improved battery life, with a simple tap of the Fn + R keys.
MateBook + Tablet | Dual-Screen Workspace
Open two programs at the same time, one displayed on the HUAWEI MateBook 14s screen, the other on the tablet screen. Perfect for taking notes during an online class or video conference call. See what's on the HUAWEI MateBook 14s screen mirrored and synced in real-time to the tablet screen. An ideal way to turn your tablet into a sketch pad for working on HUAWEI MateBook 14s design projects. In this mode, your tablet and laptop can use the same keyboard and mouse simultaneously. Files and texts can be dragged back and forth across operation systems with upgraded smart features.
MateBook + Earphones | Listen Closely
Enjoy automatic pairing when you open HUAWEI FreeBuds near HUAWEI MateBook 14s, and view a pop-up window displaying the battery life for individual earbuds and charging case.
Quad Audio System | Firing on all Four Speakers
For audio that stands out from the crowd, HUAWEI MateBook 14s is the first ever MateBook to feature HUAWEI SOUND. The specially programmed algorithm produces a surround-sound experience like no other via 4 built-in speakers, with resonant treble and punchy, powerful bass.
Quad-Mic Voice Pick-Up | The Voice of Clarity
Meet the ideal video and conference call machine. 4 microphones, housed at the front, are able to pick up your voice a full 360° around and up to 5 meters away. And the Personal Voice Enhancement function successfully filters out others' voices during meetings and calls, to ensure you're always crystal clear.
Impressive Comfort
Let your fingers feel at home thanks to the full-size keyboard and naturally responsive, high 1.5 mm key travel. And don't be put off by the dark when you're working late with the 3-level backlighting feature, which lights up automatically when the lights go down.
Run the Show
HUAWEI MateBook 14s comes equipped with the powerful 11th generation Intel® Core™ H-Series processor and Intel® Iris® Xe Graphics. With up to 45 W of thermal design power in Performance Mode, you'll be able to run multiple programs at any one time and enjoy incredible levels of multitasking. Plus, experience instant access to all your files via the dual-channel memory and high-speed SSD.
Jet Cool
HUAWEI MateBook 14s comes with more ultra-thin S-shaped fan blades in the Shark fin dual-fan system, 25% greater air intake via the hinge inlet design, and expertly positioned full-copper heat ducts, to ensure it stays cool even when power consumption is at its peak.
The Power of Convenience
HUAWEI MateBook 14s has the power to endure with its super-high capacity 60 Wh battery. Even use the compact 90 W USB-C adapter to fast charge your phone and tablet too.