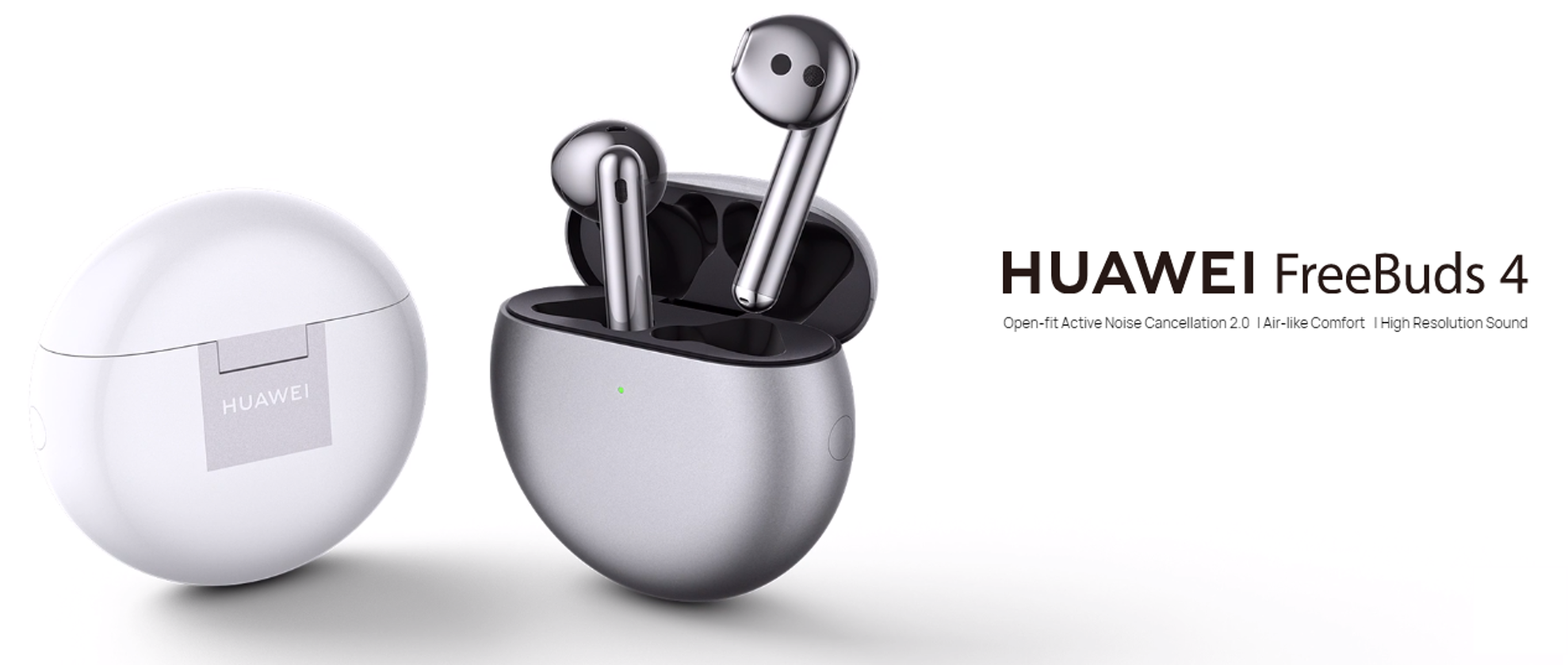 HUAWEI FREEBUDS 4
Comfortably Better Music
HUAWEI FreeBuds 4 takes Open-fit Active Noise Cancellation to new heights, incorporating all-new adaptive ear-matching technology for even greater audio immersion. The open-fit design allows air pressure to stay equalised, while ensuring important environmental sounds can still be heard — for a safer, more comfortable wearing experience even after long hours of use.
In Tune with You
Every ear is different. That's why HUAWEI FreeBuds 4 uses adaptive ear-matching technology to detect your unique in-ear shape and how you wear the earbuds, then intelligently selects from a variety of noise cancellation modes to achieve optimal low-frequency sound reduction.
A New Sphere of Listening
The perfect-circle charging case is designed to fit right in your palm. And now even smaller and lighter, it slips seamlessly into your pocket, for an easier way to take your music with you.
Sounder Fit
The earbuds are ergonomically molded to precisely fit your ear, for a shape that feels right every time. And at just 4.1 g each, they'll sit naturally and comfortably in your ears, offering an almost weightless way to deeply enjoy music.
Let's Bass it
Better bass needs its own space. Each earbud is equipped with its own bass-enhancing power engine for greater diaphragm vibration, generating impressively deep bass you can really feel.
Hits the High Notes
The large 14.3 mm LCP dynamic driver inside each earbud is what helps HUAWEI FreeBuds 4 achieve their extraordinary sound quality. Boasting a frequency range of up to 40 kHz, they'll let you experience the soaring melodies and rich timbres of all your favorite tunes.
Juat a Touch
Use your HUAWEI FreeBuds 4 to control how you listen to your music and take calls via simple, intuitive gesture controls that can be used on either earbud.
Double Your Connections
Open the charging case to pair the earbuds with a nearby phone, tablet, or PC via an automatic pairing prompt. Plus, connect them to two devices simultaneously, for seamless, switchable listening.
Conduct Your Own Sound
The Audio Connection Center in the Huawei AI Life App enables you to manage all devices paired to HUAWEI FreeBuds 4 on a single, easy-to-use screen. Use the app to transfer audio between devices, and coordinate your digital life on the go.
Sound in Harmony with Your Devices
Utilizing the multi-device interactive power of HarmonyOS 2, you can transfer video from your phone to a Huawei Vision, laptop or tablet, and the audio to HUAWEI FreeBuds 4. Ensure that late night movies on the big screen are for your ears only.
Magnify Each Memory with HD Recording
Decide the sounds you record with HUAWEI FreeBuds 4 thanks to the dual-mode 48 kHz HD sound recording. Surroundings Mode lets you recreate whatever environment you're in, picking up the sounds around you in brilliant detail. Voices Mode uses voice frequency recognition technology to hone in onto the specific frequencies of your voice, blocking out extraneous background noises in the process.
Be Spurred to Victory with Synced Game Sounds
With all-new game audio coding technology, HUAWEI FreeBuds 4 are able to reduce latency to an imperceptible 90 ms on HarmonyOS 2 phones and 150 ms on EMUI phones, for audio that stays in lockstep with the action onscreen. Turn your favorite game into a multi-sensory triumph.
Your Moment, Your Music
HUAWEI Music provides a high-quality, fully comprehensive music experience, with a vast music catalogue for you to stream, download and enjoy to your heart's content.
Get AI Life for Your HUAWEI FreeBuds 4
Download the Huawei AI Life app to manage noise cancellation and audio modes on HUAWEI FreeBuds4. Use the Audio Connection Center (not available on iOS) to switch seamlessly between devices, plus other fun features.